Higgins- 4/2010
Hummmmm! What do you think?
What do you think this cartoonist is trying to point out?
Check out this cool site for more political cartoons!!! Harpers Weekly offers cartoons from the Antebellum period (before the Civil War) to the early 1900's! Yes, they had a sense of humor even way back then!!! :)
Cartoonist: Grant Hamilton Source: PUCK Magazine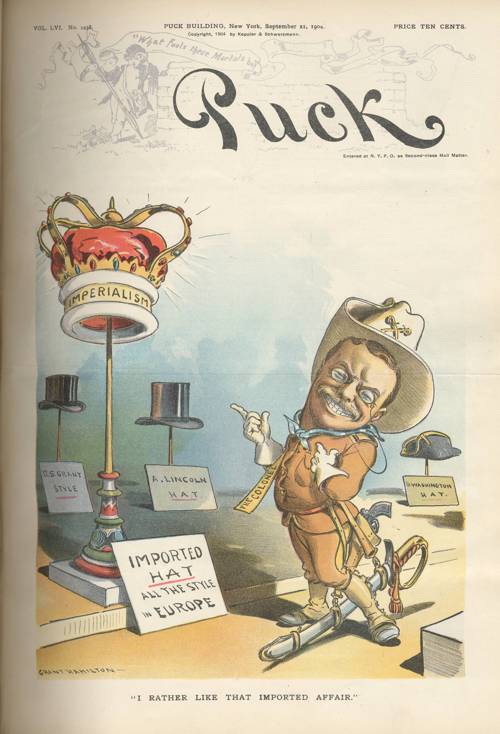 Date: September 21, 1904
Complete HarpWeek Explanation:
This cartoon in Democratic Puck continues the theme of presenting Theodore Roosevelt as an authoritarian leader. The image emphasizes the Republican president's aggressive foreign policy by depicting him in his Rough-Rider uniform from the Spanish-American War and declaring his preference for the foreign crown of "Imperialism" over the simple American hats of past presidents, Ulysses S. Grant, Abraham Lincoln, and George Washington.

Last Updated
Website maintained by Rita Bernhart

View My Guestbook
Sign My Guestbook

Email Me Here! I love great jokes too but keep them clean! If you do not use Outlook as your email server, my email address is: rbernhart@cslcharter.org